'The Little Prince' Has a Release Date and a New Trailer — Get Ready to Cry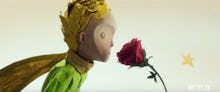 There's a new, English-language trailer for The Little Prince — a film adaptation of the much-beloved children's book by Antoine de Saint-Exupéry — and it's just as heart-wrenchingly beautiful as we could have hoped.
The new film will be released in theaters and on Netflix on Aug. 5, according to Entertainment Weekly. The streaming site took over the film after Paramount dropped it back in March, a week before its scheduled U.S. release. 
The new trailer introduces us to a little girl — whose life is planned down to the second by grown-ups — and her neighbor, an old man with a story to tell about a little prince he once knew.
The film uses both CGI and stop-motion animation — and the result promises to be, from the trailer, a nostalgic reimagining of a book that's become widely beloved for its themes of childhood, innocence and growing up.
The French-language version of the film came out in October. The English language version features voice acting from Albert Brooks, Jeff Bridges, Rachel McAdams, Paul Rudd, Marion Cotillard, Benicio Del Toro, James Franco, Ricky Gervais and Paul Giamatti, among others.