Taco Bell Is Giving Away Free Tacos on Tuesday, June 21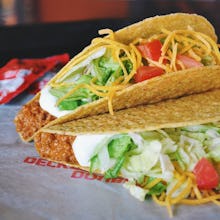 At the start of the NBA finals, Taco Bell announced they'd be dishing out free Doritos Locos Tacos under one condition: A visiting team would have to win an away game.
Welp, it happened, and you have the Cavs to thank.  
But also the Warriors. 
The Golden State Warriors won Game 4 sans home court advantage. And the Cleveland Cavaliers took Game 7 — and the whole shebang — Sunday night on the Warrior's turf.  
Because an away team earned victory in one of the final four games of the series (twice, actually), the "Steal a Game, Steal a Taco" promotion will go into effect on Tuesday, June 21. 
You can get free tacos at Taco Bell on June 21 from 2 to 6 p.m. (The Golden State Warriors beat the Cleveland Cavaliers in Game 4.) 
June 20, 2016, 2:00 p.m.: This story has been updated.