Johnny Depp-Amber Heard Divorce Update: Actress Reportedly Alleges Domestic Violence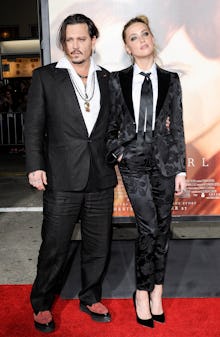 Actress Amber Heard has reportedly filed a restraining order against husband Johnny Depp for alleged domestic violence, People reported Friday. Thirty-year-old Heard filed for divorce from Depp, 52, on Sunday, citing "irreconcilable differences," CNN reported.
"A domestic violence restraining order is a court order that helps protect people from abuse, or threat of abuse, from someone they have a close relationship with," People reported Friday. Photos of Heard with a photo of bruises on her face were reportedly submitted as evidence. 
Heard and Depp have been married since February 2015 — and, most recently, have made headlines for being embroiled in a bizarre struggle with the Australian government after bringing their pet dogs into the country without following the required protocol.
Heard isn't the first celebrity woman whose relationship has put a spotlight on the problem of domestic violence — although, as the Huffington Post pointed out in 2015, there is an "ongoing trend in the celebrity landscape" of "famous men who consistently get away with violence and abuse." The publication named Sean Penn, Bill Murray, Josh Brolin and Nicolas Cage as some of the male celebrities who have been either accused or charged with domestic violence and gone on to have successful careers, seemingly unhindered by their pasts.