How 2 Snapchatters Took Their Followers Up the Face of Mt. Everest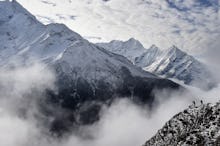 Snapchat: It can help you build your brand, flirt with your crush — or document your trip to the top of Mount Everest.
Climbing partners Cory Richards and Adrian Ballinger chronicled their journey to the peak of the 29,029-foot mountain via their Snapchat account EverestNoFilter, allowing people around the world to live through their journey vicariously.
The Snapchat series included breathtaking views but also documented the harsh and sometimes painful health conditions the two faced while attempting one of the sport's most treacherous undertakings.
To use Snapchat from this remote location, the two connected to Wi-Fi using solar-powered, satellite internet systems, which required them to lug around a bunch of batteries and other necessary equipment, totaling 16 pounds — which, especially in Everest conditions, is a lot to manage.
In the end, only Richards summited, and, in a cruel twist for his devoted followers, he lost service toward the peak when his phone could no longer handle the climate conditions.
"I think it was kind of a classic reminder of where we were and how much power that place had," Ballinger said of the last leg of the ascent. Though he had conquered Everest before, the lack of oxygen had him slurring his words, and he was advised to turn back about 2,000 feet from the peak. 
But neither that, nor the blackout upon reaching the peak can take away from the history both men just made. They climbed Mt. Everest — and they took the entire world with them.