'Glee' Actor Mark Salling Indicted on Child Pornography Charges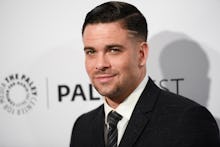 Former 'Glee' star Mark Salling was indicted by a federal grand jury on Friday for "receiving and possessing child pornography on his laptop computer," according to a press release from the United States' Attorney's Office
One count of the indictment specifically alleges that the actor, "used the Internet to receive a still image and a video depicting child pornography on December 26, 2015," and a second count alleges that the actor came into possession of two additional videos on December 29.
Saling, 33, is best known for playing Noah "Puck" Puckerman on Fox's musical high school sitcom, "Glee." TMZ reported his initial arrest in December 2015, as well as the subsequent search of his computer conducted by police.
Citing anonymous sources, TMZ also reported that Saling's girlfriend had been the one who initially tipped off investigators.
According to the press release, charges of receiving child pornography come with a mandatory minimum sentence of "five years in federal prison and a statutory maximum sentence of 20 years." 
Possessing child pornography, a separate charge, has a "statutory maximum sentence of 20 years in federal prison."
Read more: Bill Cosby Is One Reason Why We Need to Do Away With Statutes of Limitations for Rape