Dr. Henry Heimlich Saves Woman From Choking at the Age of 96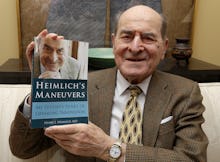 Dr. Henry Heimlich, the 96-year-old creator of the eponymous anti-choking technique, saved a woman from choking on a hamburger Monday, CNN reported.
Heimlich was eating a steak at Cincinnati, Ohio assisted living facility Dupree House when 87-year-old Patty Gill Ris began to choke. The doctor then locked his arms below her ribcage and squeezed three times, forcing the chunk of burger out of her esophagus.
A chest surgeon, he invented the lifesaving Heimlich technique in 1974. According to Heimlich's educational institute, wrote CNN, in the 40 years since it has saved at least 50,000 lives in the U.S. alone.
"It was very gratifying," Dr. Heimlich told the Guardian of the incident. "That moment was very important to me. I knew about all the lives my maneuver has saved over the years and I have demonstrated it so many times but here, for the first time, was someone sitting right next to me who was about to die."
"[I] just sat there absolutely smiling as big as I could," he added. "She told me how wonderful and fortunate she felt."
According to the Cincinnati Enquirer, it may not in fact be the first time Dr. Heimlich pulled a Heimlich.
"Several published reports in the early 2000s from news outlets ranging from the BBC to the Chicago Sun-Times show interviews with Heimlich describing himself using the maneuver," the paper wrote. "In one interview, he said he helped a man at the former private dining club, the Banker's Club, in Downtown Cincinnati in 2001."
"He swims three or four times a week and he goes to the symphony and the ballet. I hear he performed his maneuver with great agility," Heimlich's son, Phillip, told the Guardian. "I have always been very proud of my dad and I believe he is the person who has saved more lives than anyone living."