An Arab-Israeli Catholic Ballerina Just Won Israel's First Transgender Beauty Pageant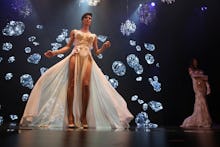 Twenty-one-year-old Arab Israeli Ta'alin Abu Hanna from Nazareth won Israel's first transgender beauty pageant and will represent the country at the Miss Trans Star International pageant in Spain in August.
"If I had not been in Israel and had been elsewhere — in Palestine or in any other Arab country — I might have been oppressed or I might have been in prison or murdered," Hanna told the Times of Israel. 
Hanna will also get $15,000 to spend on gender-affirming surgeries in Thailand, as well as hotel accommodations during her stay. 
The contest allowed for transgender women to be celebrated, a sharp contrast to the alienation and violence some contestants said they faced when they first came out. 
"My cousins, my father, my brother-in-law all came and beat me and took me by force and cut my hair, tied me to the bed and left me there for three days with no food," 24-year-old contestant Caroline Khouri told NBC News.
Israel is one of the more trans-friendly nations in the region, though many LGBTQ people have left to protest its oppression of Palestine, according to Al Jazeera. 
When asked whether the pageant was a part of a "pinkwashing" agenda to make Israel look better, pageant organizer Stephani Lev said, "Listen, there isn't propaganda here. We live in Tel Aviv, in Israel, the only sane country in the region where people can live as gays or transgender and no one is going to throw them off the rooftop or slaughter them. This is just the reality here. It's not some sort of brainwashing or pinkwashing or whatever."