In the Wake of Johnny Depp's Alleged Abuse, #ImWithAmber Calls Out Hollywood Hypocrisy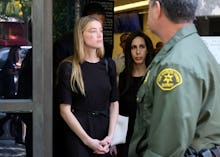 In the midst of the sad saga that is the dissolution of Johnny Depp and Amber Heard's marriage, one Twitter hashtag highlights the huge problem with the way Hollywood treats men accused of abusing their partners.
#ImWithAmber surfaced shortly after Heard appeared in court to file for a restraining order against Depp. In her petition for the court order, Heard submitted photos of bruises on her face, which she claims Depp inflicted after striking her with an iPhone.
Greasing the wheels of the rumor mill is a TMZ report released Saturday, which cites anonymous sources who allege that Depp was "barely ever sober" during his 15-month marriage to Heard, and also claim that cocaine and alcohol likely fueled both instances of domestic violence he's been accused of.
The hashtag reinforces what many have been quick to point out: that Hollywood has a history of going soft on men like Chris Brown, Woody Allen and Charlie Sheen, who escaped from the claims of abuse levied against them with their careers largely unharmed. 
"When abuse survivors stay silent, they are blamed and called cowards. When they speak up, they are blamed and called liars," one Twitter user wrote.
Another user pointed out the way that society can be complicit in creating a culture of hypocrisy surrounding survivors of abuse — as they are encouraged to speak up, yet the validity of their claims are immediately questioned after they do.
Many users are doing their part to ensure that a blind eye isn't turned to the claims of domestic abuse Depp currently faces by calling for a boycott of his films:
Read more: Johnny Depp-Amber Heard Divorce Update: Actress Reportedly Alleges Domestic Violence