Melissa McCarthy Has 2 Words for an Industry That Says She Can't: "Why Not?"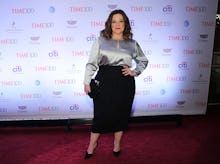 Melissa McCarthy is set to star in the man-maligned Ghostbusters reboot, the trailer for which has become the most disliked on YouTube, ostensibly because sexism. But as she made clear in recent interviews with Hadley Freedman of the Guardian, the 45-year-old actress shakes off trolls who say she can't — because of her gender, her clothing size, her age — with two words: "Why not?" 
Growing up, McCarthy explained, her dad's response to his daughters' perceived shortcomings was consistently, "Why not you?" As a result, she told Freedman, "It just never occurred to me that being a woman, or from a small town, or not being some other being, made me not in the running."
That attitude applies when faced with critics who have written off her success — which landed her the number-three spot on Forbes' highest-paid actress list in 2015 — as bound to fade because it relies on the "gimmick" that is being "cacophonous, tractor-sized." It applies whenever people tell her how she should and shouldn't look, which is the reason she launched her clothing line, Melissa McCarthy Seven7. "At a certain size, clothes just become tarp with a hole in it," McCarthy said.
"That sends the message: 'We don't want to see you, and we sure as hell know you don't want anybody to see you,'" she continued. "And I just thought, 'Why not?'"
Why not indeed, because it seems like people want to see more McCarthy. In mere months, they'll get to: Ghostbusters hits theaters on July 15, and for the many trolls incensed over the reboot, the comedian has this message:
"All those comments – 'You're ruining my childhood!' I mean, really. Four women doing any movie on earth will destroy your childhood? I have a visual of those people not having a Ben [her husband], not having friends, so they're just sitting there and spewing hate into this fake world of the internet. I just hope they find a friend."
Read more: Melissa McCarthy Posted an Awesome Tribute to the Girl Power of the New 'Ghostbusters'