Over 700 Migrants Feared Dead in a Week After Series of Shipwrecks in Mediterranean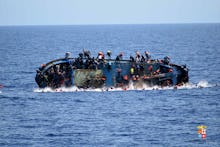 A harrowing week has culminated with more than 700 refugees feared dead after three separate shipwrecks in as many days in the Mediterranean Sea.
Though European rescue boats plucked thousands from the waters off the coast of Italy, the death toll, if accurate, represents the most casualties in the Mediterranean since April 2015, the Associated Press reports.
Giovanna Di Benedetto, an Italian spokesperson for Save the Children, told the news agency that rescue crew efforts seem to be able to lessen, but not circumvent, the deaths of migrants.
"It really looks like that in the last period the situation is really worsening in the last week, if the news is confirmed," she said.
Al Jazeera reports that on Wednesday, the first fatal incident saw a crowded boat carrying nearly 600 people, mostly Eritrean refugees, capsize. Despite rescue efforts, a UNHCR spokesperson said that nearly 100 people are still missing.
On Thursday, a crowded fishing boat that had departed from Libya sank, with 550 people feared missing by the estimates of human rights activists.
An unknown number of migrants are also missing from a third shipwreck on Friday, bringing the total number of feared casualties to over 700.
William Spindler, a UNHCR spokesperson, told Al Jazeera that efforts to curb the number of refugees making harrowing illegal journeys to safety must be ramped up. 
"It is very difficult to prevent people from doing this. In our view, what needs to be done is to offer legal alternatives to the most vulnerable refugees to travel to Europe. The reason why people are undertaking these dangerous journeys is because they have no choice," he said.
Read more: This Is What a Refugee's Harrowing Escape to Europe Really Looks Like