Marco Rubio is Sorry For Making Fun of His New Master, Donald Trump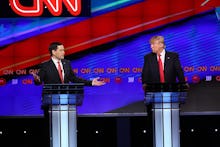 Florida Sen. Marco Rubio, who infamously mocked the size of presumptive nominee Donald Trump's hands with an allusion to the size of the latter candidate's penis, has now publicly apologized for affronting the real estate billionaire.
In an interview on CNN's State of the Union with Jake Tapper, Rubio said he reached out to Trump to let him know he regretted the low blow.
"I actually told Donald — one of the debates, I forget which one — I apologized to him for that," Rubio told Tapper. "I said, 'You know, I'm sorry that I said that. It's not who I am and I shouldn't have done it.' I didn't say it in front of the cameras, I didn't want any political benefit."
Earlier this week, Rubio issued a weak endorsement of Trump on Twitter, more or less ending the feud (and helping put a nail in the fledgling #NeverTrump movement's coffin).
At roughly the same time, Trump urged Rubio to run for his Senate seat in November, despite Rubio's assertion he would be leaving the legislature this year.
Finally, in the interview with Tapper, Rubio said he would give Trump an introduction speech at the Republican National Convention in July, saying the candidate may ultimately prove to be the "the ultimate change agent" in Washington, D.C. Asked about Trump's unorthodox tactics — like suggesting Democratic front-runner Hillary Clinton is a murderer — Rubio responded, "I don't think he should change if he's been successful. I may not like that direction, but at this point, he won and this is the direction that he won on."
In other words, Rubio is pulling a full Chris Christie. Like the New Jersey governor, who endorsed Trump to a hail of criticism from his home state in February, Rubio has now grudgingly accepted the way the winds are blowing this election. But for Rubio, who jumped on the Trump train far later than Christie, the pill must be much more bitter.
"It is what it is," Rubio told Tapper about Trump's endorsements by neo-Nazis and white supremacists, as well as his racist remarks about Mexicans. "... I don't give him credit for what he said, but I give him credit for the way he understands this stuff."
As Think Progress noted, Trump has not similarly apologized for any of the nasty things he said about Rubio, such as calling him "weak on illegal immigration," accusing him of a "credit card scam" and labeling the then-candidate a "lightweight choker."