A Male Gorilla Was Killed in Order to Protect a Child That Fell Into His Enclosure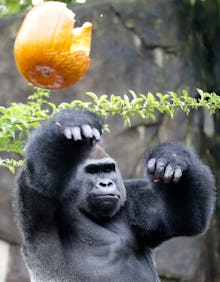 A male gorilla was shot and killed at the Cincinnati Zoo on Saturday by staff members who were attempting to save a 4-year-old boy who had fallen into his enclosure.
Harambe, a 400-pound Western lowland silverback gorilla, can be seen in videos of the incident gently nudging the toddler, at one point scooping him up by the seat of his pants so that the boy is standing in the watery pool he had slipped into while observing the exhibit.
Other, more graphic recordings show the gorilla dragging the young boy through the moat before towering over him on all fours.
A woman can be heard in the video yelling, "I'm right here, mommy loves you."
Cincinnati Zoo Director Thayne Maynard told NBC News that while the security team's rapid response "saved the child's life," the team was mourning the loss of the critically endangered gorilla.
"This is a huge loss for the Zoo family and the gorilla population worldwide," he said.
Twitter users' reactions oscillated between anger and sadness over the unfortunate circumstances surrounding the gorilla's death.
Kim O'Connor, who witnessed the events on Saturday firsthand, told NBC News that the boy's mother had been watching several other children when her son fell into the exhibit.
"The little boy himself had already been talking about wanting to ... get in the water. The mother's like, 'No, you're not, no, you're not,'" she said.
Harambe had celebrated his 17th birthday on Friday, one day before he was killed.
Read more: The Surprising Way Scientists Want to Save Shelter Pets