Johnny Depp Hashtag Frames the Conversation About Blaming Victims of Assault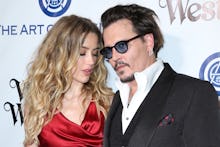 Famous people assault their partners, too. For evidence, we can look at Dr. Dre, Sean Penn, Charlie Sheen and Chris Brown, to name a very few. And yet many fans of Johnny Depp, a widely acclaimed actor, have had a hard time swallowing the domestic violence allegations made by his wife, Amber Heard. 
#ImWithAmber highlighted a pattern of victim blaming often experienced by women who claim spousal abuse, neatly encapsulated by the hashtag's other half, #ImWithJohnny. As Refinery29 reported, Depp's defenders have used it to tag speculation that Heard is simply trying to get her hands on his money, demanding proof and asking "WTF is wrong" with Heard. But amid the many voices that have come out in defense of the star, three belong to people who arguably know him best.
On Sunday, Depp's daughter, Lily Rose Depp, put a photo of the pair on Instagram. "My dad is the sweetest, most loving person I know," the caption read. "He's been nothing but a wonderful father to my little brother and I, and everyone who knows him would say the same." 
Her mother — model, actress and singer Vanessa Paradis, Depp's former partner — has reportedly called the allegations "outrageous," according to People. "In all these years I have known Johnny he has never been physically abusive with me and this looks nothing like the man I lived with for 14 wonderful years," she said. Depp's first wife, Lori Anne Allison, has reportedly said the same, calling him a "soft person" incapable of brutality.
However good a father and partner Depp has been in the past, none of it has much bearing on how he may have behaved with other women, most recently with Heard. When she appeared in court on Friday, she did so with a black eye, which the actor allegedly gave her during an argument. 
Heard said that Depp "ripped" her cell phone from her grip and threw it at her, hitting her hard enough to bruise her cheekbone. The argument escalated, she said, with Depp "screaming" at her, "striking" her, "violently pulling [her] hair" and smashing things up with a wine bottle. A friend who entered the apartment during the incident allegedly corroborated Heard's story. Heard testified that the actor had abused her throughout their marriage, which lasted just over a year.
It's not the first time that Depp has been accused of violent behavior while intoxicated. His 1990s relationship with Kate Moss was allegedly one of extreme drug-fueled highs and lows. Indeed, Depp's 1994 arrest followed after he drunkenly trashed a suite at New York City's Mark Hotel during a fight with the supermodel. 
"Kate was often on edge with Johnny, afraid of his moods," Maureen Callahan wrote in her book on the fashion world, Champagne Supernovas. According to Callahan, the couple split in a "massive blowout" in which Depp reportedly called Moss "a crazy bitch." 
It's neither a punch nor a cellphone thrown, but the incident does speak to a tendency toward drunken, disorderly conduct and a temper. As Refinery29 reported, the actor's hotel room arrest came a week after a bar scuffle with photographer Jonathan Walpole, in which Depp forcibly grabbed Walpole by the ears. In 1999, London authorities arrested Depp outside a restaurant for "threatening behavior" toward photographers. 
Like Depp's purported conduct in previous relationships, neither of these arrests serve as evidence that he abused Heard. It's important to remember that. It's also important to remember that only around half of domestic violence cases are reported to the police, often for fear of retaliation and/or inaction. And as one Twitter user pointed out, it's for precisely the victim-blaming culture illustrated by the dueling hashtags: 
Read more: 5 Ways Rape Culture Sneaks Into Your Everyday Life