This Three-Year-Old Absolutely Slayed At Her Beyoncé-Themed Birthday Party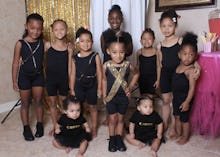 When Beyoncé sings, "Okay ladies, now let's get in formation," is she calling on women as young as three-years-old? One little girl seemed to think so, who celebrated the big three in an outfit inspired by the megastar's iconic Black Panther uniforms from her Super Bowl 50 performance.
Actor and online personality King Keraun shared a few photos from his daughter's Beyoncé-themed bash, where all of the girls in attendance — or formation, rather — wore all black, with some shirts baring only one word in bright gold: "Queen."
"My daughter's [third] birthday party theme was Beyoncé cause she loves B," the father of one wrote. His daughter even recruited the help of his nephew, who played the role of Jay Z. The young boy wore a long chain, a baggy white t-shirt and a yankee hat.
Each of the girls photographed from the party were flawlessly slaying in their party outfits, and seemed to be having more fun than any themed-party we've ever been to. "This is the cutest party I've ever seen," one user commented. "Ultimate black girl squad," wrote another. 
Though Beyoncé has yet to respond to King Keraun's now viral photos (she never will), we imagine she and Blue Ivy highly approve of how little Rae rang in three-years-old. 
Read more: The Important Message Behind Beyoncé's Dancers' Outfits Capped Off Her Most Important Week