Comedian Doug Stanhope Called Social Media Response to Johnny Depp Allegations "Murder"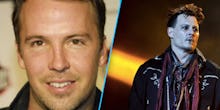 Comedian Doug Stanhope is accusing Amber Heard of blackmailing Johnny Depp — and he's doing it in a particularly egregious way.
In an op-ed published on entertainment website the Wrap titled "Johnny Depp Is Being Blackmailed by Amber Heard — Here's How I Know," Stanhope compares the response on social media to something incredibly intense: murder. 
"It's almost 4 a.m. and I can't sleep," he wrote. "Not even dozing off. Today, a friend of mine was pilloried in the press for domestic violence. Coupled with a picture of his wife with a bruise, he was murdered on social media." 
"I watched it happen and I didn't say a f***ing word," he continued. "Even though I knew it was bulls***."
On Friday afternoon, Heard filed a restraining order against Depp for alleged domestic violence, with People publishing pictures of Heard's court appearance complete with bruise on her face. Just days before, she filed for divorce.
Now, Stanhope is comparing the violence Heard allegedly experienced during her relationship with Depp to how Depp was treated by the press. He's using language describing physical harm to describe damage to reputation.
Read more: Johnny Depp Hashtag Frames the Conversation About Blaming Victims of Assault
Glenn Beck used a similar tactic in defending an alleged abuser with extreme language in November 2014. He said that the Associated Press had "raped" Bill Cosby when the news source aired Cosby's non-response to sexual assault allegations made against him.
"You want to talk about rape?" Beck said at the time. "That's media rape right there."
According to Stanhope, he was with Depp last Saturday night — which happens to be the night Heard is alleging Depp attacked her. 
"Bingo [his girlfriend] and I were at Johnny's house for most of that Saturday until just before the alleged assault," he wrote. "We assumed initially that his dour mood was because of his mother's death the day before. But he opened up in the most vulnerable of ways that it was not only his mother, but that Amber was now going to leave him, threatening to lie about him publicly in any and every possible duplicitous way if he didn't agree to her terms."
He continued, "Blackmail is what I would imagine other people might put it, including the manner in which he is now being vilified." 
In the days since Heard filed her restraining order, Depp's former wives and his daughter, Lily-Rose, have come forward in support of the actor. "These recent allegations being made are outrageous," Depp's former wife, Vanessa Paradis, wrote in a letter obtained by TMZ. 
On social media, two hashtags — #ImWithJohnny and #ImWithAmber — have become popular, revealing that although Heard has released images from the night of abuse, the public remains relatively split on who to believe. 
To Stanhope, his truth is clear. "He may never talk to me again for saying it but I'd never forgive myself for not coming to his defense out of fear or ego," he wrote. "I stand up for my friends and I tell the f***ing truth."