Ann Coulter Calls Asian-American People "Mandarins" — and Insists She's Correct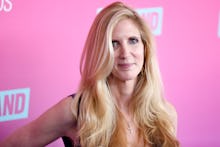 During a Friday night appearance on MSNBC's Hardball with Chris Matthews, political commentator Ann Coulter used the term "Mandarins" to describe Asian-Americans — and didn't back down after MSNBC anchor Joy Reid challenged her.
Coulter described a pro-Trump rally in San Diego, California, as being "one of the most diverse crowds anyone has ever seen." According to Coulter, the crowd comprised of both Latinos — Coulter used the term "Hispanics" — and "Mandarin Chinese with signs for Trump" written in Mandarin. 
Coulter also claimed that the "Hispanics" chanted "Build the wall." 
When MSNBC anchor Joy Reid challenged Coulter's repeated use of the term, Coulter sniped back at Reid, saying "You're not gonna police my language!" 
Coulter once again described the audience as having both "Hispanics" and "Mandarins," which spurred Reid to respond: "What does 'Mandarin' mean? You mean Asian-Americans." 
Reid said Coulter's use of the term "mandarin" was "throwback language" and "arcane." 
As blogger Angry Asian Man points out, Coulter's use of "Mandarin" is by definition arcane — the term fell out of use in 1912 after China was no longer under imperial rule. 
Angry Asian Man also points out that Coulter seems intent on causing hysteria. 
The racial overtones of Coulter's use of "Mandarins" are crystallized as she continues to pontificate upon the group she is targeting. In naming Asian-Americans "Mandarins," Coulter also declares us broadly un-American, and warns of an "invasion."
Update: Fresh Off the Boat actress Constance Wu blasted Coulter's remarks on Twitter. 
You can watch the video, uploaded by a conservative YouTube user, below.