Chrissy Teigen's Baby Gets Kanye West to Smile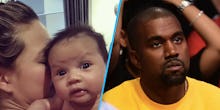 Breaking: Kanye West, a celebrity who is known for his perpetual frown, smiled over the weekend. 
The reason? A very cute, very famous baby. 
On Sunday, this very famous baby's mother, model Chrissy Teigen, posted a Snapchat of West and his wife, Kim Kardashian West, meeting the 6-week-old Luna Simone. 
Kanye West smiled! And the clouds parted! And the world was at peace once more.
Already, Luna Simone is responsible for making Teigen speak out about mom-shaming, post-pregnant boobs, the bizarre reality of breastfeeding and why DILFs are important. So we'd say she's well on her way to a Nobel Peace Prize, earned by the age of 11. 
Read more: Chrissy Teigen and John Legend's Baby Luna Simone Just Made Her Instagram Debut
In another snap, Kardashian West is seen holding the first offspring of Teigen and John Legend (while showing off her massive wedding ring), and she looks pretty smitten, with Teigen captioning the photo "Auntie!" while Kardashian West gives the baby her best duckface. 
Meanwhile, Luna appears to be napping while wearing a little pink shirt with matching shoes. (We imagine making Kanye West smile was pretty exhausting.) 
Before Luna was born, Kardashian West helped throw Teigen an extravagant baby shower. So unlike too many other celebrity friendships, this one may actually be legit. 
Now, with the power to make Kanye West smile, we can consider Luna unstoppable.