The Internet Is Unloading on Rapper Big Boi After His Idiotic Anti-Woman Tweet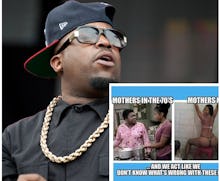 Much like rapper Big Boi's career, his tweet seems to be a thing of the past. 
On Sunday afternoon, rapper Big Boi tweeted out a meme that depicted actress Esther Rolle's character "Florida Evans" from the CBS sitcom Good Times next to a random woman dancing in a shower. The captions above each woman read "Mothers in the 1970s" vs. "Mothers Now."
People weren't kind in their responses.
Some users sarcastically challenged Big Boi to follow up this tweet with one about black fathers in the name of #genderparity. 
Some users reminded Big Boi that he's complicit in sexualizing the very women at who he's wagging his finger.
For many women, the tweet came off a little too hotep. Rather than talking about black liberation, Big Boi blamed black women for the black community's problems. 
One user Feminista Jones, countered Big Boi's tweet by pointing to the many black women who are black mothers who have bettered society with their contributions. 
Here's some live footage of Big Boi when he opens his Twitter app and peeps his mentions for the first time: 
And remember y'all, no hoteppin'.