Prince's "Kiss" and 6 Other Game-Changing Singles That Almost Never Happened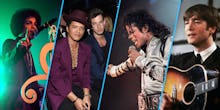 At times, writing a hit song feels less like a science and more like trying to shoot an apple off a collaborator's head at 250 yards with a machine gun. The most truly inspired melodies are the product of scores of broken pencils, broken hearts, broken egos and a ton of random chance. The trials don't end with the writing, either: The song has to be tested, labels have to approve, every concerned party has to argue their side until everyone is confident the artist and the public is ready. 
From the outside it all looks so clean. But so many of the most peerless songwriters stumbled at one of the vital steps on their way to writing the hit that changed their genre as fans know it. Some of the most game-changing singles in music history — Prince's "Kiss," Michael Jackson's "Billie Jean" and Marvin Gaye's "What's Goin' On" — nearly didn't make it out of the gate.
Read more: Scientists Just Discovered Why All Pop Music Sounds Exactly the Same
What follows is a glimpse at just how messy the creative process can be behind the scenes. If anything, they should give hope to aspiring musicians across the world: They do not struggle alone.
1. "Kiss" by Prince
"Kiss" was never meant to be a Prince tune. The Purple One originally wrote it for the Paisley Park act Mazarati, led by Prince's bassist Brownmark, who recorded it as a bluesy acoustic demo. The band, assisted by David Z, re-worked the song, blessing the track with its lythe, minimalist funk groove and "impossible to play" drum patter. When Prince heard it, he was so blown away he took it back for himself, re-recording the vocals and adding in the song's guitar solo breaks. 
When the song was ready to go, Prince's label stood as one final hurdle. They felt the song had no bottom; it was too minimal. But Prince held his ground. "'That's the single and you're not getting another one until you put it out,'" David Z remembered Prince saying, according to Sound on Sound. The label yielded and it went on to become his third No. 1 single. It's a sound artists from Daft Punk to Pharrell have parroted since.
2. "What's Going On" by Marvin Gaye
The lead single off an album that Rolling Stone once described Sgt. Pepper's of soul, also faced immense label backlash leading up to its release. Inspired by the tragedies of Vietnam and the stateside political confusion in the late 1960s, Gaye wanted to write songs that drew attention to the issues of the day. 
Motown, which felt it had perfected its pop formula, wasn't thrilled at the prospect or the product. The company took special issue with "What's Going On" being the lead single, with Stevie Wonder being its sole champion. Berry Gordy, the company's founder, called the song "the worst thing I've ever heard." Gaye pushed for the song anyway and it became a hit, leading to a flood of socially conscious soul out of Motown's camp.
3. "Stan" by Eminem 
Often it's not industry meddling or creative disputes that hold a song in limbo, sometimes it's straight fuck-ups. Eminem's tale of a tragically dedicated fan, redefined hip-hop storytelling and even added a new word to the lexicon. However, due to an error in the booth, the version we got is apparently only a shadow of what could have been. 
While annotating his own lyrics for Genius, Eminem shared a story about a stoned engineer who accidentally recorded over his best take. He was supposed to punch in and clean up one final bar, but the engineer rewound too far. 
"Back then we were recording on two-inch tape, so once you recorded over something it's gone forever," Eminem wrote. "The first half of the verse was gone. I re-recorded it but you should have heard the original take that shit was way better."
4. "Billie Jean" by Michael Jackson
Before Michael Jackson's iconic "Billie Jean" topped the charts, won Grammys or earned a platinum certification, Jackson and his recording team were considering scrapping it altogether. Jackson came up with the song while driving, and was so entranced by the sound he didn't notice that his car had caught fire. 
The song didn't strike Jackson's producer, the legendary Quincy Jones, the same way. Rumor has it he thought the song was weak and tried to keep it off the album — a rumor he's since denied. He did think the intro was too long, though when Jackson told him that part is what made him want to dance, he relented. 
"When Michael Jackson tells you that's what makes me want to dance," Jones once told a reported, according to the Houston Chronicle, "well, the rest of us just have to shut up."
5. "Hallelujah" by Leonard Cohen
Cohen's "Hallelujah" was hell to write. Those trials and tribulations the songwriter faced bringing the song to life are recorded in its own Dantean Inferno in The Holy or the Broken: Leonard Cohen, Jeff Buckley, and the Unlikely Ascent of "Hallelujah." According to that text, Cohen wrote over 80 verses for the song before finally whittling it down to four for the studio recording. The label hated it, said it wasn't hit and wasn't even pop, choosing the word "disaster" instead. 
It wasn't until Jeff Buckley found it and re-introduced it to the world that the song earned the reverence, and its holy place in the American canon it enjoys today.
6. "Love Me Do" by the Beatles
The Beatles launched their epic seven year career with their first single, the sunny and bright-eyed "Love Me Do." Yet, if George Martin, the group's producer and honorary fifth Beatle, had gotten his way, the Fab Four's career would have launched on a very different and far less impressive first step. Martin wanted a hit for the band and wasn't convinced Lennon-McCartney had the writing chops to make that happen. He pushed for Mitch Murray's "How Do You Do It" to be the song to introduce the band to the world, but the band were not fans. 
"'It may be a number one, but we just don't want this kind of song, we don't want to go out with that kind of reputation,'"  McCartney remembered telling Martin, according to the Beatles Bible. "'It's a different thing we're going for, it's something new.'" Eventually Martin relented and allowed the Beatles to record it and release "Love Me Do." It became a smash and proved in a small way the Beatles were not going to be any ordinary pop band.
7. "Uptown Funk" by Mark Ronson
Ronson had a feeling from the start of writing "Uptown Funk" that it was going to be the song to either make him a household name, or break him. For close to six months, it seemed a lot more likely it would do the latter, according a Grantland profile. 
"It nearly self-destructed, like, 18 times," Ronson said. "The song would have these kinds of sessions, like two days straight, and, man, I'm just exhausted. Bruno [Mars] would be like, 'Shit, man, it breaks my heart, but maybe this song just wasn't meant to be.'" 
The stress Ronson experience trying to put the song together caused his hair to fall out, caused him to puke and pass out while vetting guitar parts on one occasion. When it all came together, thanks to some key contributions from Mars, it became the biggest No. 1 single of 2015, and the second-longest running no. 1 single of all time. Hopefully that makes the baldness worth it.