Katy Perry's Twitter Was Hacked — And the Hacker Leaked an Alleged New Song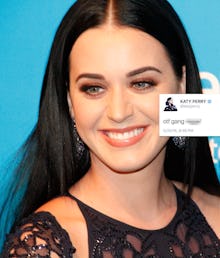 Katy Perry's Twitter account was hacked tonight, and not just to spew vile nonsense on behalf of the pop star: The hacker also released a song.
On Monday night, Katy Perry's verified Twitter account, with 89 million followers, started tweeting shoutouts and slurs, clearly not the work of Perry herself. The tweets were deleted shortly after.
The only hint to who did it was a tweet from Perry that said to follow the accounts @sw4ylol, with the hashtag #hackersgonnahack, implying that the new account, created on Saturday, is the public face of the hacker. The account lists its location as Romania.
But @sw4ylol wasn't done with just the first few, vile tweets from Perry's hacked account. Later on Monday night, near 9 p.m., he tweeted out a link to a song called "Witness 1.3" from an account called "slut." The soft, airy pop song lasted for about an hour on SoundCloud until it was taken down due to a copyright notice, @sw4ylol tweeted.
The SoundCloud account, which has been uploading remixes for years, could also be a hacked account.
As for "Witness 1.3," the vocalist doesn't sound like Perry, but the track could be from a songwriter. Many of Perry's hits come to her entirely or partially written by songwriters like Bonnie McKee or Max Martin. This could account for the "1.3," which could be a version number for the song in progress.
Mic will update with this story with more information as it becomes available.