Native American Student Barred From Wearing Traditional Moccasins for Graduation Ceremony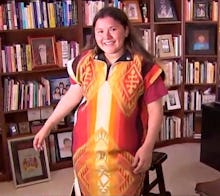 Maryland high school student Dylan McCabe, set to graduate from North Point High School on Thursday, was hoping to walk down the aisle wearing a pair of traditional Navajo moccasins to honor her Native American heritage. School officials, however, have said no, citing the school's dress code, Fox 5 DC reported. 
"I want to have that connection to my Navajo side as I walk across that stage," McCabe told the station. 
Read more: Meet the People Living With a Deadly 200-Year-Old Curse
McCabe's principal informed her she could wear a traditional ceremonial dress, as it would not be visible under her graduation gown. The moccasins and leggings were a no-go, however, because they were visible and violated the dress code requirement for black shoes.  
McCabe told Fox 5 DC the moccasins carry special significance because they were part of a Navajo coming-of-age ceremony she participated in when she was 11.
"You run three times a day — at daybreak, noon and dusk — wearing those moccasins," she told the station. "When you run, you run farther and farther each time signifying that you can push yourself harder and harder each time with that personal strength and endurance."
McCabe and her family have started a Change.org petition to pressure administrators to allow the moccasins.