'The Bachelorette' Season 12, Episode 2 Recap: Chad and His Damn Protein Shakes Draw Ire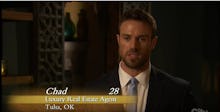 It wouldn't be a Bachelor/Bachelorette season without the audience loving to hate one of the contestants. In the previous Bachelor installment, it was the indomitable arrogance of Olivia Caridi (who doesn't care what you think of her, apparently). Now, for the 12th season of The Bachelorette — which sees season 11 contestant JoJo Fletcher doling out the roses — we have Chad. 
He started off on the wrong, uneasy foot before the series even began, when he responded to three questions — who he admires the most, who he wants to have lunch with and who he wants to be one day — with the same answer: himself. Now, his profuse confidence is rubbing the rest of the contestants the wrong way. 
Read more: 'The Bachelorette' Season 12 Premiere Recap: JoJo and the Men Share 3 Cringeworthy Moments
When the contestants are split into two sections for group dates with JoJo, Chad assumes the first group she chooses is the "B" team, which makes little to no sense. By that thought, wouldn't the first group be the first choice — or the "A" team? But then again, this is the man who also enjoys making everyday comparisons to protein shakes, so logic might not be his strong suit. Similarly, he really, really likes to eat. 
It doesn't take long for Chad to deem the rest of the would-be bachelors unfit for JoJo — his only solace coming in the form of his fellow black-tank-top-clad bro Daniel (basically, Damn Daniel personified). While he also claims a kiss from JoJo, the Twitterverse collectively sighed in relief as she gave this week's rose to the much-more-likable James instead. 
However, the seeds have already been planted: Chad is this year's villain, and a protein-filled one at that. He's delightfully awful; oddly, he would make the perfect match for the aforementioned Olivia. But for now, let the hate continue.