Pakistani Photographer Starts the #TryBeatingMeLightly Campaign Against Wife Beating Bill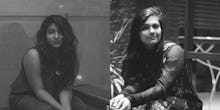 In response to a recently proposed bill in Pakistan, which would allow husbands to "lightly beat" their wives, one photographer has started a powerful photo series and associated social media campaign with the hashtag #TryBeatingMeLightly.
Photographer Fahhad Rajper began the project with a series of twelve portraits of women posted on Facebook and Twitter on Sunday. Each portrait was tagged with #TryBeatingMeLightly and the subjects' defiant quotes against the bill. The hashtag has since proliferated across social media, transforming into a digital movement.  
"#TryBeatingMeLightly is an initiative to empower women amongst us who work towards individual and collective betterment," Rajper wrote on his Facebook page. "It's an opportunity for those to voice their opinions who can't or don't. The women around me, at my home, in my friend circle and in the industry that I love — like yourself."
The Council of Islamic Ideology, a constitutional body which advises lawmakers (who, in turn, are not obliged to take the CII's recommendations), proposed the legislation. Pakistan's Express Tribune reported the proposal's contents Thursday after obtaining the 163-page bill.
It would permit husbands to beat wives who talk too loudly, refuse intercourse without religious justification, don't bathe after sex and give money to someone without their husband's permission, among a plethora of other restrictions.
Prominent human rights lawyer and activist Asma Jahangir said the proposed legislation was tantamount to "the humiliation of women," while discussing the controversy on Geo TV, BBC reported. 
Women across Pakistan — and the rest of the world — participated in the social media campaign on Facebook and Twitter, in defiance of the CII's misogynistic suggestions. 
International tennis champion and feminist Martina Navratilova commended the campaign on Twitter:
Another Pakistani human rights activist, Farzana Bari, called for the disbandment of the CII. 
"It shows the decadent mindset of some elements who are part of the council," Bari told the Washington Post. "The proposed bill has nothing to do with Islam and it would just bring a bad name to this country."
"It is difficult to comprehend why anyone in his right mind would think that any further encouragement or justification is needed to invite violence upon women in Pakistan," the Human Rights Commission of Pakistan stated, according to Agence France-Presse. 
A 2011 Thomson Reuters Foundation Poll estimated that 90% of Pakistani women have been subjected to domestic violence, ranking it the third most dangerous country to be a woman. 
HRCP said, in their statement, "[they] would like to know why the CII's [obsessed] with women," the Washington Post reported. "We hope and expect that ... the draft bill will be condemned unreservedly by all segments of society."