Disney Set to Make Live-Action Movie Based on "Female Indiana Jones" Comic Book Series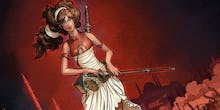 While Disney is not averse to the industry theme of countless reboots and sequels — a fifth Indiana Jones film in the works with Harrison Ford being the latest example — the studio is also looking to add franchises in other, creative ways. This includes growing its increasingly compelling list of diverse protagonists. 
According to Deadline, Disney has acquired the rights to the graphic novel Delilah Dirk and the Turkish Lieutenant, as part of the action and adventure series by Tony Cliff. The titular character, Delilah Dirk, is described by Deadline as a "female Indiana Jones" who is well-trained with 47 sword-fighting techniques, and travels across the globe in the 19th century on her flying boat. 
Disney will develop the Turkish Lieutenant as a live-action film, and for the studio, is an opportunity to showcase further diversity in its franchises. Delilah, for one, is of British and Greek descent. Moreover, her sidekick in the Turkish Lieutenant, Selim, is Turkish (he is the Turkish lieutenant in question). 
Given the recent controversial, whitewashed castings in comic book adaptations such as Ghost in the Shell and Doctor Strange, it's imperative Disney avoids a similarly maligned casting with the graphic novel's leads. 
However, executing the Turkish Lieutenant on screen effectively would add Delilah to its growing list of powerful heroines. Disney and its subsidiary, Lucasfilm were praised for the inclusion of a female protagonist, Rey, in its latest Star Wars film, The Force Awakens. 
Indiana Jones, like Star Wars, has a passionate following. While Delilah is not directly related to the action and adventure franchise, a similar theme could resonate — this time with a female lead. 
Read more: 6 Female Superheroes Who Deserve Movies Before We Get Another 'Superman' Movie