Even Stephen Hawking Can't Explain How Donald Trump Happened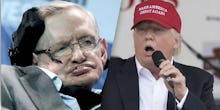 Stephen Hawking is a pretty smart guy — he once wrote a whole book about the universe. But one thing he can't explain is Donald Trump.
During an interview with the English television show Good Morning Britain, the iconic theoretical physicist said he was completely at a loss for words in explaining the billionaire's rise in American politics. 
"I can't [explain Donald Trump]," he said, the Guardian reported. "He's a demagogue who seems to appeal to the lowest common denominator."
During the interview, Hawking, who has amyotrophic lateral sclerosis and communicates through a specialized computer, also weighed in on more local matters. The theoretical physicist came out strongly against the United Kingdom leaving the European Union.
"Gone are the days when we could stand on our own, against the world," he said. "We need to be part of a larger group of nations, both for our security and our trade. The possibility of our leaving the EU has already led to a sharp fall in the pound, because the markets judge that it will damage our economy."
As Hawking is widely considered one of the smartest people on Earth, his pronouncements on all subjects are covered in great detail. In recent months, the physicist has mostly discussed his grim assessment of the threats facing Earth and humanity.
Read more: Stephen Hawking: The World Is Still Doomed