These Muslims Are Fighting Islamophobia in the Most Heartwarming Way Possible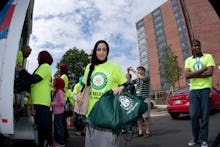 On Sunday, a group of Muslim volunteers took to the streets of Baltimore and handed out 700 "Mercy Bags" — kits filled with toiletries and other essential goods — to homeless and low-income residents and seniors.
The volunteers traveled to the city over Memorial Day weekend with about 25,000 other Muslims as part of the 41st annual Islamic Circle of North America conference. The aim of the gathering was to break down misconceptions about Islam in response to anti-Muslim incidents in 2016, according to the Baltimore Sun. 
But distributing the "Mercy Bags for Baltimore" had a separate goal altogether: to give back to the community.
"We came up with the idea that thousands of Muslims are coming to Baltimore [for ICNA], what are we going to do for the city of Baltimore?" ICNA President Naeem Baig told the Sun.
The idea to provide toiletries, water, undergarments, laundry essentials and other goods to those in need at no-cost came to fruition in response to issues the city faced last year. During protests over Freddie Gray's death at the hands of police, much of the country's news coverage doubled down on the looting of convenience stores that followed without discussing what items were being stolen: toilet paper, tampons and diapers, among other basic necessities for survival. 
To Baig, this was the inspiration behind starting the Mercy Bags service project.
"People were going through difficult times," Baig said. "Many seniors and homeless people were in need of sanitary products."
ICNA anticipates at least two more annual conferences in Baltimore, but one resident said the Mercy Bags are already giving people a far better representation of Islam than the story told by the mainstream media.
"They're doing what's in their heart," Katie Crowder, a 68-year-old Baltimore resident, told the Sun. "If everybody stopped judging one another, they'd be a lot better off. It'd be a better world, I'm telling you."
With "zakat," or "charity," being one of the five pillars of Islam — tenets the religion requires all followers to adhere to — the act of giving is a common expectation for Muslims around the world. 
This has manifested itself in various ways: In the United Kingdom, Muslims donate the most money of any religious group to charities, ahead of both Christians and Jews. In July 2015, when several majority-black churches were set ablaze across the American South, three Muslim organizations raised over $100,000 to help repair them.
Whether they're donating to charities, providing about 200,000 water bottles to residents of Flint, Michigan, during the city's recent water crisis or raising nearly $200,000 for the families of the San Bernardino shooting victims, in which 14 people were killed in December, American Muslims have a strong track record of giving back to their communities.
Perhaps this pattern of charity will help people recognize Muslims as more than the stereotypes heaped on them by much of the mainstream media.