Singer Mary Lambert Talks About Life With Bipolar Disorder on Instagram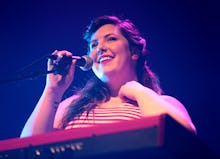 Singer Mary Lambert posted Sunday a photo on Instagram after what she called an "intense bipolar episode." 
Lambert, known for her folksy pop and for contributing the chorus to Macklemore's marriage equality anthem "Same Love,"  has been open in her music and in interviews about living with bipolar disorder. 
"In my episodes, I tend to oscillate quickly between hyper anxiety, paranoia, suicidal thoughts and shame," Lambert wrote on Instagram. "I have different mechanisms for coming out of it. TV shows are helpful (thanks Jeopardy!), and I am also grateful to have a deeply compassionate partner that helps pull me out with nice forehead kisses."
Lambert said it is her responsibility to destigmatize mental illness and posted the photo to show that someone with bipolar disorder has good days and bad days. 
"I realized part of the honesty — part of the vulnerability — is allowing people to see the whole picture," Lambert said before she described her episode. "I am not like this every day. But I am also not glamorous and confident every day. I can exist in both spaces, and that is OK."
As Lambert mentions, she opened her 2014 song "Secrets" with the line "I've got bipolar disorder."  
People loved Lambert's frank depiction of life with mental illness. 
"This makes me feel like I'm not alone," one commenter wrote. "Thank you." 
According to the National Alliance on Mental Illness, 2.9% of the U.S. population is diagnosed with mental illness every year — and 83% of the cases are considered "severe."