Questlove Breaks Down 40 Reasons Why Prince Was a "Hip-Hop Pioneer"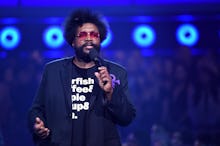 Some of the greatest Prince stories the world has ever heard have come out of Ahmir "Questlove" Thompson, drummer for the Roots and general authority of all things hip-hop. He told mourning fans about Prince's epic roller skates and his love for Finding Nemo. 
Read more: The 7 Wildest Prince Stories That Make Us Miss Him Even More
He added a new meditation on Prince's greatness Sunday, breaking down all the ways he was hip-hop to the core, inspired by the Source's Prince tribute edition.
"It's been a min since I saw The Source, but after I pondered — yeah it made sense," Questlove wrote before launching into a 40 point list of attributes and narratives from Prince's life that made him a hip-hop pioneer.
"1) came from troubled home 2) limited access to music forces him to create his own world of music," the list begins, hitting on Prince's ghostwriting, his multiple aliases and his diss record. Questlove ends with: "40) left us way too early."
Here is the list in full.
1) came from troubled home