Seattle Artist Aleah Chapin Captures the Human Body in These Imperfect Nude Portraits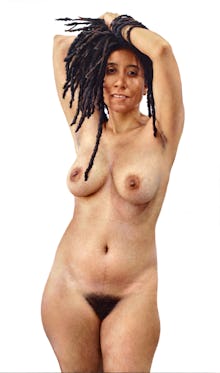 Seattle-based artist Aleah Chapin and her nude portraits are helping to redefine society's perception of body image.  
In her intimate series Body/Being, Chapin captures the raw, untouched human body. 
The bodies she puts on display are diverse and real, including transgender people, breastfeeding mothers and folks of all ages. 
For that matter, her portraits are sometimes considered controversial. 
"I'm touching on a cultural nerve, and I think this nerve needs to be examined," she told the Creators Project. "Why is it that we have such strong feelings towards the bodies we are in? Why do we have such difficulty seeing images of bodies that are represented in a real way without unrealistic digital manipulation?" 
Before painting, Chapin photographs her subjects and refrains from giving them much direction. Usually this is her subjects' first time being a model, and "they are fully inhabiting their bodies in a raw and honest way," she told the Creators Project. 
Often, her subjects are her friends and family. 
Chapin finds the imperfections of the human body to be what makes it beautiful.
"There is too much glossing over of reality and I know as a woman growing up in this world and struggling with my own body, that we need to see more images of real people," she told the Huffington Post. "There is so much bravery in inhabiting your body fully, that standing strong in your imperfection is the definition of heroism to me."
Read more: This Artist's Response to "No Fats, No Femmes" Controversy Is Beautiful