The New 'Star Trek Beyond' Movie Poster Has Something You Never See in Hollywood Films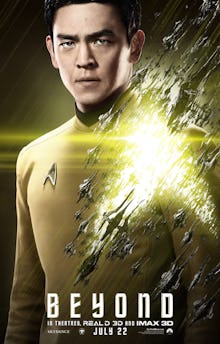 On Monday, Paramount Pictures released a trio of posters for their upcoming film Star Trek Beyond.
This standard PR ploy would be unremarkable were it not for one detail: One of the posters features a large solo image of Korean-American actor John Cho, who stars in the Star Trek movie franchise as Hikaru Sulu. 
It's one of the rare instances in which an Asian-American actor is featured on a Hollywood movie poster by themselves. The movie was also directed by Justin Lin, who is also Asian-American.
In an ideal world, this would not be a noteworthy occurrence. But Hollywood's striking lack of racial diversity — especially when it comes to featuring Asian talent on-screen — has made this a hot button topic for quite some time.
According to a study published by the University of Southern California's Annenberg School of Communications in February, Asian actors played a paltry 6.3% of named or speaking film roles given to non-white talent in the U.S. in 2014. Overall, Asian actors represent a mere 1% of film roles. 
Hollywood's lack of diversity in casting, such as studios routinely giving Asian roles to white actors, has prompted industry insiders and observers to speak out. A trending hashtag — #WhitewashedOUT — recently drew attention to Hollywood's exclusion of Asian talent:
One of the most creative responses to the issue came courtesy of William Yu, a 25-year-old digital strategist who launched an online campaign titled "Starring John Cho." 
In the project, Yu photoshops the Harold and Kumar star onto various movie posters — from Spectre to romantic comedies — as an imaginative projection of what utilizing Hollywood's Asian stars to their full potential might look like.
"It's about igniting a conversation about how Asian Americans are perceived in today's Hollywood landscape and our greater society," Yu told Mic earlier this month. "I hope that people visit the site and realize that being a charismatic protagonist, a romantic interest or an action star is not race-specific."
The new Star Trek Beyond poster — which stars John Cho — seems to be the logical conclusion of Yu's efforts, and of broader efforts to increase diversity in the industry. But only time will tell if images like this become the norm in Hollywood, or if they are doomed to remain an anomaly, as they are today.