Viral Photo of Gay Kiss on Chinese Campus Reveals Changing Attitudes Toward LGBT Youth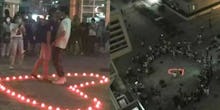 A Chinese student declared his love for his friend publicly, sparking both support and outcry on the country's most popular social media platform, Sina Weibo. 
The display took place in the heart of Beijing's Renmin University of China. The young man told his friend, "I will be with you, not to play basketball, but to kiss you," What's on Weibo reported. The two men's kiss in the middle of a heart shaped by lit candles was met with cheers and applause from passersby, but the reaction was much more mixed online. 
"I cannot help it — won't mankind perish if everyone's gay? In my opinion, gay people should go and see a psychiatrist," one user wrote while sharing a photo of the kiss. 
"They are a disgrace to the university and when their parents see this, they'll faint," wrote another.
Though outrage over public displays of affection between gay couples is not isolated to mainland China, it could be perpetuated by the government's stance on LGBT issues. The topic of homosexuality remains taboo throughout the region: The government banned depictions of gay characters on TV in 2015, describing them as "vulgar" and "unhealthy" visuals, the Guardian reported in March. 
On the other hand, China's first gay film was finally approved for theaters after it premiered at the Cannes Film Festival in 2014.
Despite the government's and commenters' anti-LGBT remarks, the majority of those who shared the photo of the two men kissing were supportive of the declaration of love.
"Love goes beyond gender, bless you!" one user wrote, echoing the sentiment shared across the majority of commenters. "I wonder how Renmin University of China will respond to this. If these students get expelled, I would really lose hope in Chinese universities," another wrote.
But perhaps the best response came from a supposed heterosexual male user, who didn't seem phased by the "vulgar" display of love, What's on Weibo reported: "I'm happy, because this leaves two more single women for me."
Read more: Kansas High School Student Threatened With Throat Slashing for Being Gay