Latina News Anchor Clapped Back at Viewers Who Didn't Like Her "Buenos Días" Greeting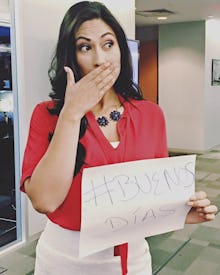 Latina news anchor Mayra Morena doesn't report the weather, but she knows when the forecast is shady. 
Morena, who works for ABC13 in Houston, Texas, posted a message to her social media accounts Saturday after learning that she had upset viewers by uttering two words at the beginning of her broadcast: "Buenos días." 
The Spanish-language greeting was ill-received by some viewers:
Moreno posted a photo with her holding a piece of paper with "#BuenosDías" on it.
In a message to accompany the post, which has been shared over 1700 times, Moreno explained that people were upset that she chose to speak Spanish during Memorial Day Weekend. She reminded followers that Latinos have died defending the country. 
#Oops Apparently this morning I upset some people after I greeted our viewers with a simple  #BuenosDías after my coanchor wished everyone a #GoodMorning. Some decided it was uncalled for and unAmerican especially on #MemorialWeekend when we are supposed to honor those who died serving our country. Didn't realize that this day and age a simple 2 word phrase would upset some people.  #WeAreAllAmerican #LetsStoptheHate #HispanicsAlsoDiedforAmerica
Despite some of the complaints' suggestion that her greeting was particularly inappropriate for Memorial Day Weekend, Moreno's post has garnered support from laypeople and military personnel alike. Several people greeted Moreno with "Buenos días." 
Twitter users also sent their support and railed against those who were offended:
In Houston, where ABC13 is based, the population is 43.8% Latino, according to the U.S. Census Bureau. Given Houston's near-majority of Latino residents, the debacle raises one question: 
Or, rather: