Anonymous Is Preparing an All-Out Assault on the Mainstream Media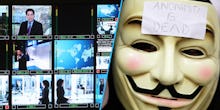 May is turning out to be a bad month for the free press.
Early Tuesday morning, a group of hackers claimed to have taken down the email servers of CNN, a company with about 4,000 employees globally. It's the first attack for #OpSilence, hacking group Anonymous' impending month-long assault on the media for allegedly ignoring the crisis in Palestine.
"#OpSilence is an operation which targets mainstream media for their ignorance on the genocide that has been going on in Palestine, and what is truly happening in Syria and all over the world," Sc0rp10n Gh0s7, leader of Ghost Squad Hackers, said in private online messages.
Ghost Squad Hackers are easily the most active faction of Anonymous of late, claiming responsibility for many of 2016's biggest hacking incidents, including attacks on the KKK homepage and a handful of Brazilian government websites.
But GSH's main target — and the reason it's now targeting the media — is the "New World Order," a messy conspiracy theory that claims a small group of Zionists run the world using banks, the media and other corporate entities. 
The nine-hacker group spent the past month on #OpIcarus, an operation that briefly took down the websites for the centrals banks of countries like Greece, Mexico and Bosnia. The most conservative estimates say that it has hit more than a dozen banks.
Other targets for the upcoming Anonymous operation will be media outlets that "have the power to send a message but who are instead covering up the government's mess," Sc0rp10n Gh0s7 said.
GSH has yet to release a video about the operation, but is currently putting one together, according to Sc0rp10n Gh0s7. Expect the usual fare — a robot voice, some conspiracy theories and a few big promises.
We've reached out to CNN for comment and will update this story if we hear back.