Italian Judge Rules Man Can Pay Alimony in the Form of Pizza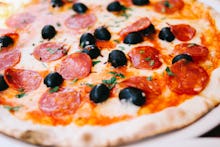 Getting divorced isn't just rough on people's emotions, it can also wreak havoc on their bank accounts. Between lawyer's fees and alimony — or legally obligated financial support payments to a former spouse — it's common to feel financial strain. 
As such, one man got creative with his alimony payments and paid them to his ex-wife in the form of pizza — a move a judge in Italy deemed legal, Quartz reported. 
Italian divorce law, Quartz explained, "assumes a divorced woman is unable to provide for herself, and can require an ex-husband to pay alimony that's at times beyond his means" — which is what happened in the case of 50-year-old father of one Nicola Toso. Because his pizza restaurant wasn't thriving at the time of the divorce, he couldn't quite afford to pay his ex-wife the approximately $335 he owed monthly in alimony. So Toso paid her in pizzas instead.
His ex-wife found the idea, well, cheesy, and refused the offer. She then took Toso back to court. (While $300 worth of pizza every month sounds delicious, it doesn't exactly help pay the bills or provide the most nutritious diet.) 
Even still, judge Chiara Bitozzi ruled that the pizza was an acceptable form of payment because Toso "wasn't at the time making enough money from his business," Quartz wrote. 
While this all went down in 2011, the documents were just unearthed by Il Gazzettino this month — so it's unclear if Toso is still paying his wife in pies. 
If Toso is still responsible for alimony, hopefully he headed to Naples two weeks ago. There, 100 chefs gathered to make the world's longest pizza. The final result was 1.15 miles long — aka many, many months of alimony payments.