Hillary Clinton Just Received a Huge Endorsement Ahead of the California Primary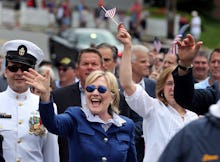 Hillary Clinton earned an important endorsement Tuesday when popular California Gov. Jerry Brown threw his support behind her campaign — a seal of approval that could give her a boost ahead of the Golden State's primary on June 7.
While Brown praised Sen. Bernie Sanders for pushing a message of income inequality, he said Sanders has no path to the nomination, and added that a prolonged Democratic primary only benefits presumptive GOP nominee Donald Trump.
"This is no time for Democrats to keep fighting each other," Brown wrote in an endorsement letter posted on his website. "The general election has already begun. Hillary Clinton, with her long experience, especially as Secretary of State, has a firm grasp of the issues and will be prepared to lead our country on day one."
Brown's endorsement is even more noteworthy, given his somewhat acrimonious history with the Clintons.
In 1992, Brown ran against Bill Clinton for the Democratic nomination — a race that led to bad blood between the two men.
Sanders has deemed the California contest a must-win for his campaign. He's been traveling around the state hosting large rallies, and polls show he's narrowed the gap there among Clinton in recent weeks.
But Brown — a progressive governor popular among the state's Democratic electorate — could provide Clinton a boost going into the contest.
FiveThirtyEight, a nonpartisan political handicapping site, gives Clinton a 96% chance of winning the California primary.