Is Your Partner "Binge Cheating" on You? There's Now a (Dumb) Way to Find Out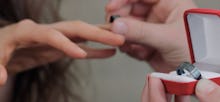 Many a modern relationship is built on a shared Netflix password and the experience of co-binge-watching various series. If that sounds like your relationship, you'd probably be devastated to find out that your significant other is a lying sack of shit who secretly watches episodes of your favorite shows behind your back, a phenomenon that is now known as "binge cheating."
But now — thanks to an ice cream company, which is weird! — there's a high-tech way to force your partner into binge-watching fidelity. Cornetto has developed commitment rings that ostensibly make it impossible for partner to sneak a peek at the latest Orange Is the New Black (or whatever) without you.
Ah, Netflix and Chill Total Distrust of a Significant Other!
According to the company's website:
Cornetto, the ice cream that has united couples for decades, created a gadget to prevent the most common reason why couples fight nowadays: watching episodes ahead of your partner. Two rings with NFC technology linked to a video  streaming platform that can only be activated when the rings are together.
While referring to video streaming drama as "the most common reason why couples fight nowadays" might be just a lil' melodramatic, the phenomenon of binge cheating has been fairly well-documented by now. In 2013, the Cut's Maureen O'Connor described it as "the smallest, most insidious betrayal."
In December, Mashable published six rules to live by so as not to allow streaming infidelity to ruin your relationship, which stressed the importance of pre-set guidelines and clear communication. "Put a tracking device on his or her finger to make viewing your shows without you impossible" wasn't on the list, but maybe that's just because these rings weren't on the market yet? IDK.
So how do the rings work? We've reached out to Cornetto for more details and will update if we hear back, but it looks like once you and your significant other program the rings with the shows that are for joint viewing only, both rings will have to be near your streaming device in order to watch that show.
When it works, it looks like this:
When your partner tries to watch an episode behind your back, it will straight up cock-block (and mildly shame) him or her. Like this:
A smart invention, indeed, as long as we're pretending this is a world in which various loopholes — such as private secondary accounts, borrowing a friend's password or simply watching on a streaming platform that isn't connected to the rings — aren't instantly recognizable.
But anyway, listen: If your partner is such a lying sack of shit that he or she requires a high-tech gadget created by an ice cream company to prevent him from binge cheating, there just might be some deeper issues at play in your relationship than those involving the consumption of streamed video content!