Here's How Justin Trudeau Is Exposing the Problem With Rigid Masculinity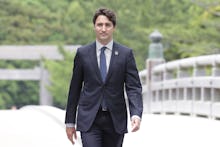 If Canada is the United States' neighbor to the north, Prime Minister Justin Trudeau is our boy next door. 
Trudeau impresses with his track record on human rights, accepting tens of thousands of refugees earlier this year, budgeting billions for the country's indigenous population and legislating anti-discrimination bills for transgender people. But often Trudeau's political record falls second to his charisma: He's called himself a feminist in a no-nonsense way, carried a man in a wheelchair down stairs and is basically one step away from saving a kitten in a tree.
But Trudeau's boy scout-caliber good deeds and good looks have done more than make us swoon — they've completely changed how the media talks about masculinity.  
A study from researcher Jerald Sabin and soon-to-be University of Ottawa assistant law professor Kyle Kirkup found pundits referred to Trudeau using words associated with "subordinate masculinity" significantly more frequently than politicians Stephen Harper and Thomas Mulcair. 
While adjectives like "aggressive," "strong" and "tough" were ascribed to Harper and Mulcair, Trudeau was instead "confident" and "self-assured," as well as sometimes "emotional" and "boyish." When looking at just words connoting subordinate masculinity in the 756 newspaper editorials and op-eds Sabin and Kirkup investigated, 79% of them were deployed to describe Trudeau.
An unnamed senior member of the parliamentary press gallery even recalled that at the time of Trudeau's election, it was part of the conservative agenda to insist he wasn't "'man enough' to be prime minister," according to Sabin.
Though the researchers' findings may expose a certain rigid devotion to stereotypical masculinity, Sabin said Trudeau may be paving the way for a new kind of masculinity in politics.
"Some political observers may be inclined to conclude that Justin Trudeau's victory in the 2015 election signals the beginning of a new era in the history of masculinity and Canadian politics," Sabin wrote. "At the very least, it suggests that hewing to forms of traditional masculinity is not the only path to victory in Canadian politics."
Read more: Justin Trudeau Is the Ultimate 21st Century Man — And Not Just Because He's Hot As Hell
June 6, 2016, 3:26 p.m. Eastern: This story has been updated.
Correction: June 6, 2016