Two Students Were Assaulted on a Train for Speaking Mandarin in Possible Hate Crime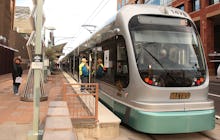 Two Asian-American students at Arizona State University were allegedly assaulted on the light rail for speaking Mandarin on Saturday. The victims, one male and one female, were on their way home in Tempe when the 22-year-old suspect, Kalie Rutledge, reportedly interrupted the two's conversation and then followed them off the train to physically attack them. 
While on the train, Rutledge allegedly yelled, "I don't speak Chinese" and told the two to shut up, ABC15 reported. 
"It was 100% racial hatred, no other reason," the female victim, Xiaolin Shi, said, according to China Daily. "I don't know [Rutledge]. I've never met her before."
Shortly after the attack, Rutledge was arrested and charged with assault, disorderly conduct and aggravated assault. After being released from Maricopa County Jail, she will attend her preliminary hearing on Monday, according to China Daily. 
Shi's remains in stable condition, though her eye socket was fractured from being hit in the face.
Earlier this year, a fellow Chinese ASU student was shot by a driver following a car accident. The incident sparked a larger conversation surrounding gun control and recent violence against the local Chinese community. 
Read more: High School Officials Apologize After Ignoring Racist Chants at a Basketball Game