One-Armed Shark Attack Survivor Bethany Hamilton Places Third in Women's Surf Competition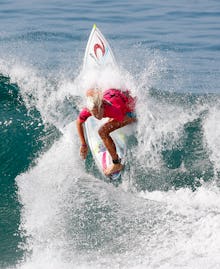 Bethany Hamilton, 26, a Hawaiian native who lost an arm from a shark attack when she was 13, shocked the world with her performance in the World Surf League's Fiji Women's Pro. 
Hamilton beat the world No.1-seeded surfer, Tyler Wright, and six-time world champion Stephanie Gilmore to get to Tuesday's semifinals, where she came in third place.
Hamilton was knocked out of the WSL's Women's Pro in the semifinals by French surfer Johanne Defay, who ended up winning the competition.
Her performance in the event is a personal and career best, making her a total wild card from the start of the competition.
To top things off, she also recently had a child. 
Adding to the encumbrances, Hamilton gave birth to her son, Tobias, almost exactly a year ago, on June 1, 2015, which subsequently impacted her training. 
She's been an inspiration for years. 
Less than one month after having her left arm bitten off by a roughly 14-foot tiger shark in 2003, the then-13-year-old was back in the water, surfing. 
Hamilton's unusual story was turned into a feature film, Soul Surfer, released in 2011. Before that, there was a book and a documentary.