Yes, You Can Break Your Penis — Here's What to Know Before Having Sex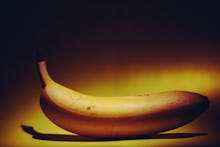 Your boner isn't really a bone — but unfortunately, you can still fracture it. 
It's cringe-inducing, but true: Penis fractures are real. And they can happen during everyday intercourse. 
The fractures occur when an erect penis sustains some form of trauma. 
When you get an erection, two cylindrical tubes inside your penis — called corporeal bodies — become filled with blood. Think of them like expanding balloons, according to Men's Health. 
If an erect penis gets hit or bent, the tissue surrounding the corporeal bodies may not be able to withstand the force.
"The surrounding tissue that's holding the pressure inside can't withstand it anymore," Dr. Jacob Rajfer, professor of urology at the David Geffen School of Medicine at UCLA, said, according to Men's Health. "And that's when the rupture occurs."
It could happen, for instance, if you thrust hard and miss your partner's orifice, or if your partner accidentally sits on your erect dick.
If it happens to you, there's a chance you'll hear it.
The fracture may sound like a pop or a crack.
There are other symptoms too.
Unsurprisingly, you may lose your erection right away, according to the Mayo Clinic. Dark bruises may also appear on your penis. If the fracture affects your urethra — the tube through which urine and semen leave the body — you may also notice blood in your pee. 
You'll likely need surgery to repair the broken tissue.
The sooner the better — ideally within three days of the fracture, according to Men's Health. 
If you take your time getting treatment, "It becomes much more difficult to repair it, and scarring can start to form," Dr. Rajfer said.
So if you're getting it on tonight, make sure you practice your aim.