Here's How This Gay Restaurant Fought Back After It Was the Target of Homophobic Vandalism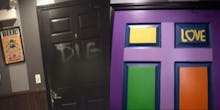 Hamburger Mary's in Chicago clapped back in the most loving way after being targeted by a hateful, very mediocre graffiti "artist."
The LGBT-friendly restaurant saw a chance to spread a message of acceptance by painting its bathroom door the colors of the rainbow after someone spray-painted a homophobic message on it over the weekend, local television station WMAQ reported Monday. 
Each panel features a separate color of the rainbow, with the word "Love" prominently displayed on the top of the door. 
"I was like, I'm just going to have fun with this and make this kind of a testament to — a shrine if you will — to acceptance and diversity," restaurant owner Ashley Wright told WMAQ.
Though police have yet to analyze the chain restaurant's security camera footage, Wright said the recordings show a woman stepping into the bathroom the night the spray painting was discovered. 
"This was someone who came into my house, my establishment and spray painted a hateful message to me and my customers and staff," Wright said. 
Fortunately, love won in this case, and Hamburger Mary's face-lift now promotes the restaurant's central messages of acceptance and diversity.
Read more: This Trans Teen's Selfie in a Target Bathroom Is Going Viral for the Best Reason