France Blessed the World With a Wine Theme Park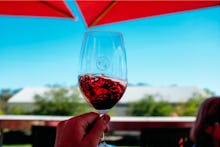 File this under "Yaassss."
Someone has finally made a theme park free of screaming children and filled with alcohol. La Cité du Vin, which translates to "the city of wine" and probably "heaven on Earth," is a full-blown wine theme park. It's located in no other than Bordeaux, one of France's most famous wine-making regions, and will open in June, KTRK reported.
There are no roller coasters at this theme park — coasters and carafes aren't exactly the best combination — but there are 20 wine-themed sections and exhibits that cover the history and culture of wine. There is also a 250-seat auditorium for classes, screenings and wine-tasting sessions in the 10-story building, High Snobiety noted. 
Those looking for typical amusement park thrill are not totally out of luck: There is a simulated boat ride that "shows what it was like to be a sea merchant sailing across the globe, selling wine," High Snobiety reported, which sounds better than riding "It's a Small World" for the umpteenth time.
La Cité du Vin — which is housed in a stunning structure that puts Disneyland to shame — also has two restaurants on-site. One offers dishes made from in-season regional produce, while the other boasts 800 bottles of wine from around the world and some special-seeming tapas. There will be no limp corn dogs and under-salted pretzels sold at exorbitant prices. 
The cost of entry at the theme park starts at approximately $22 per adult and, unfortunately, it does not include a flight to France. If the airplane ticket is out of the question, take the $22 you would have splurged on the ticket and make your own wine theme park at home with these cheap bottles.