Large Chunk of Donald Trump's Donations to Veterans' Groups Didn't Come Until Last Week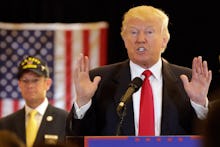 Donald Trump said on Tuesday he has now donated $5.6 million to veterans' charities — funds the business mogul raised during a nationally televised fundraiser on Jan. 28.
But many of the 41 organizations Trump rattled off during a news conference on Tuesday to defend his charitable giving said they didn't receive checks until last week, after public pressure mounted for Trump to reveal how much money he had donated to veterans' groups, according interviews with officials at the charities.
Read more: Even Stephen Hawking Can't Explain How Donald Trump Happened
Mic reached out to each of the 41 organizations Trump named at his news conference, and successfully contacted representatives from 25 of the groups. Twenty-four of those groups were willing to provide details of Trump's donations, and 12 said they had received checks in the past week amounting to $1.85 million.
That includes a $1 million check from Trump himself to the Marine Corps-Law Enforcement Foundation — which had also received a $100,000 donation from Trump earlier this year, according to the group.
The donations over the past week came after the Washington Post published a story on May 24 reporting that Trump had not yet donated large quantities of the $6 million he said he raised for veterans during the Jan. 28 fundraiser.
"The check was received early last week, but a telephone call was made to me two weeks ago from the foundation asking that I submit another document," said a spokeswoman from Connected Warriors Inc., which provides yoga classes to veterans as a therapeutic release. "They were being very diligent in checking our audited tax forms."
Trump held the January fundraiser instead of attending a primary debate hosted by Fox News, with whom he was feuding at the time. And he's touted his fundraising prowess on the campaign trail in an effort to earn support from veterans.
Trump spokeswoman Hope Hicks defended the timing of the donations. In an email, Hicks said that "Mr. Trump responded already noting the vetting process and our goal to complete the process by Memorial Day."
Where the money came from: Mic also found that at least $600,000 of the $5.6 million haul Trump touted on Tuesday came not from Trump's foundation, but from other charities and foundations who donated on behalf of Trump.
Of that, at least $500,000 came from an unlikely source: The Stewart J. Rahr Foundation. Stewart Rahr, a billionaire, notorious New York City playboy and close friend of Trump, gave the funds to five organizations that Trump named during his Tuesday press conference, where he lambasted the press as grossly dishonest for questioning both his honesty and his motives.
Gena Fitzgerald, a spokeswoman for Operation Homefront, confirmed in a phone interview that the group had received checks on behalf of Trump on three occasions over the course of February and March, totaling $65,000.
Fitzgerald said the donations included a $50,000 check from the Rahr Foundation on Feb. 22, a $5,000 check from the Jerome & Anne C. Fisher Charitable Foundation on March 11 and a check made out from Moda LLC for $10,000 on March 22. Moda LLC shares an address in Connecticut with Marc Fisher Footwear, which manufactures Ivanka Trump's line of shoes.
A spokeswoman for Marc Fisher Footwear declined to comment when reached by phone.
Another donation of $100,000 to the Intrepid Fallen Heroes Fund in March came from the Richard S. and Karen LeFrak Charitable Foundation, Inc., according to a representative from the group.
"I'm the only one in the world who can raise almost $6 million for the veterans, have nearly uniform applause by the veterans' groups, and then end up being criticized by the press," Trump said on Tuesday, before listing the veterans' charities he donated money to.
The billionaire mogul said he didn't play a big role in selecting the individual groups who received the funds, and that delays in their getting the money might have been related to making sure they were legitimate.
Luke Brinker, Celeste Katz, Stefan Becket and Zeeshan Aleem contributed reporting.