You Can Now Brew Your Own Beer in a SodaStream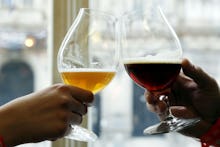 In a blow to beer-loving hipsters who love to claim ownership over home brews, a new product will enable all Americans to make their own beer at the touch of a button. 
This week, SodaStream announced its new "homemade beer system" that can froth up a cold one in just seconds. Dubbed "Beer Bar," the product utilizes SodaStream's carbonation technology to bring beer making to the masses. 
How does this magical beer-brewing gadget work? Instead of adding fruit flavoring to SodaStream, users add a unique beer concentrate the company calls "Blondie." It's got "a smooth authentic taste, and a hop filled aroma," according to the press release. 
In other words, it'll hopefully taste way better than your friend's home brew that's been fermenting in a basement for an indeterminate amount of weeks. 
Americans hoping to concoct their own SodaStream'ed brews will have to be patient, though. The Beer Bar launched online in Germany and in select retailers in Switzerland, with plans to expand to other countries later this year.