Palestinian "Spiderman" Mohamad Al-Sheikh of Gaza Shows Off His Mind-Bending Acrobatics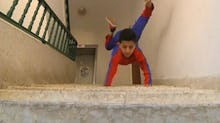 Introducing the "Spiderman" of the Middle East, 12-year-old Mohamad Al-Sheikh, who lives in Gaza City.
His acrobatics earned him the superhero nickname, because with great power comes great flexibility. 
Al-Sheikh has been honing his skills for two and a half years now. 
His goal is to break a Guinness World Record, but that's not all. Al-Sheikh's coach hopes his acrobatics can earn him enough attention to allow him to more easily leave Gaza. 
Even with invitations to perform, crossing borders out of Gaza can be difficult. 
"Applying to Guinness is the best way to move him out of Gaza and to get international attention," his coach told Reuters. "We hope that in the coming days there will be a lot of people in the world watching him and his talent will be adopted by private or public organizations."
Read more: A Male Gorilla Was Killed in Order to Protect a Child That Fell Into His Enclosure