Is Justin Bieber's 'Purpose' Tour Merchandise Ripping Off This Popular Clothing Line?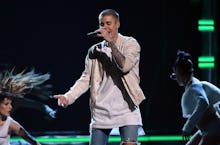 In partnership with Nomad, Justin Bieber's Purpose tour merchandise is now available online — and some think it looks really, really similar to products from the popular French brand Vetements. Bieber's stylish goods were first only purchasable from his pop-up shops in Toronto in March and New York City earlier this month, but were available online starting Tuesday. 
The loose fit and punk aesthetic of Bieber's clothes resemble Vetements' own trademark style, down to the graphic prints, colors and lettered sleeves.  
However, there is a difference in price. One Bieber hoodie goes for $90 while a Vetements hoodie can cost a steep $845. 
"We wanted to obviously continue to communicate to JB's core fan base, but also appeal to his new followers," an anonymous source who worked on Bieber's merchandise told Complex back in March. "We wanted to make something they would wear, and stuff [Justin] would wear, too. We believe JB's story of redemption and purpose is bigger than what's happening currently in culture, and we wanted to create something that would complement his message."
Bieber's clothes are currently sold-out on his official website, but can still be found on the Nomad website. 
This isn't Bieber's only rip-off controversy. Recently, indie singer Casey Dienel sued the Canadian superstar for allegedly stealing her vocal lips for his "Sorry" song. 
Read more: In One (Failure to) Tweet, Justin Bieber May Have Just Cost Himself $650,000