That Bargain Perfume You Scored Might Just Be a Bottle of Pee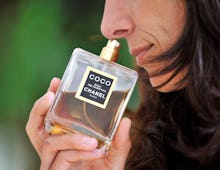 If you think you scored a great deal buying a bottle of luxury perfume at a bargain-basement price, you may actually just be spritzing a disgusting — and possibly toxic — blend of urine and antifreeze on your neck. 
"Deceptive packaging" is allegedly how the unimaginatively named "Counterfeit Perfume Ring" managed to swindle wholesalers across seven states into buying pee perfume, Fashion Law reported. An investigation by the U.S. Immigration and Customs Enforcement's Homeland Security division revealed ingredients in the knockoff fragrances — under the guise of brands like Chanel, Ralph Lauren and Gucci — included urine and antifreeze, yes, but also "other unpleasant, flammable or dangerous chemicals that burn when applied to the skin," Fashion Law reported.
ICE has been after Abul Kashem, Kaium Shah, Kenny Ni, Patrick Badal and Parvez Shazzed, who the investigation said imported the pungent cocktails from China and sold them to wholesalers, according to Fashion Law.
During a Manhattan, New York City, raid on Wednesday, Homeland Security Investigations agents seized more than 10,000 boxes of the stuff, slated for delivery to "businesses in the New York City area, and ... to e-commerce sites as well," a Homeland Security investigator said, according to the local ABC outlet. According to authorities, the bust happened after Shazzed showed an undercover agent into a room filled with designer-esque bottles, which he reportedly said "were not real but were of good quality" and priced at $15 a pop, ABC 7 reported.
The men have been charged with conspiracy to traffic in counterfeit goods, trafficking in counterfeit goods, trafficking in counterfeit packaging and smuggling goods into the U.S., according to Fashion Law.
ICE spokesman Khaalid Walls said counterfeiting is on the rise in the beauty industry. 
"If you're getting a counterfeit beauty product or cosmetic, the reality is you don't know what's in it," he said, according to Fashion Law. 
Read more: If Perfume Commercials Were Actually Made for Women, Here's What They'd Sound Like