Here's What It's Like to Be In a Relationship and Have Sex on Camera for Money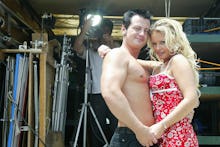 "I'm less a fan of penetration [since I got pregnant], but I'm a much bigger fan of cunnilingus than I was before. And anal feels even better," webcam performer and entrepreneur Karrie Kellie (NSFW), 26, said in an interview. 
Kellie was at Cam Con in Miami Beach, Florida, an adult entertainment convention for purveyors of webcam performance. She was in South Beach with her business partner Tequila Mockingbird, who is also her longtime polyamorous girlfriend of six years. (They both live in separate households with male partners.) 
Mockingbird and Kellie met at a BDSM club in Dallas and started camming together two years ago. Now, they work approximately 20 hours a week. While they declined to comment on how much money they were earning from their webcam sex shows, they both confirmed it was enough for them to quit their day jobs and support their respective households. 
"Working together has made me more confident," Mockingbird said. "The better we get at sex and communication, the more passionate we are [together off-camera]." 
Camming is essentially a form of interactive online porn, in which someone performs a wide range of sexually explicit activities on camera, from stripping to flirting to masturbating to having sex with a partner, for "tokens," or tips.
Cam performers can stream from home, often earning thousands of dollars a month in the process. The industry in general also happens to be more lucrative than the traditional prerecorded porn industry: While free streaming sites eat away at overall porn industry profits, the webcam industry yields up to $2 billion annually, according to a survey of industry experts by Newsweek.   
Most cam performers work alone, offering interactive cybersex to paying viewers. But there's also a number of couples like Kellie and Mockingbird who perform together on camera. They take requests from clients and broadcast almost every kind of sex one could possibly imagine — and unlike many of their peers in the traditional porn world, cam couples like Mockingbird and Kellie claim to give each other real orgasms on camera. 
These two ladies aren't the only couple taking their real relationship online to play for pay. Nuvo, a 29-year-old Florida native who preferred to only be identified by her real first name Crystal, has been camming with Billy, 34, her boyfriend of eight years, for about a year now. She told Mic in an interview that having sex on camera for a daily audience has vastly improved their sex life. 
"Our desires and fantasies come out more. Camming has opened me up," she said. 
For the first three months of their relationship, Crystal was too self-conscious to have sex with the lights on or let Billy see her completely naked. That changed when they started broadcasting their sex life to paying voyeurs on the web, after a friend suggested she quit her retail job and give camming a shot.
Today, Billy and Crystal cam full-time on Chaturbate, a popular subscription platform that reportedly boasts over 4 million monthly users, in addition to similar sites like mygirlfund and Streamate. Together, they make $4,000 to $5,000 a month for around 20 hours of work a week. 
Although Billy and Crystal haven't told their parents what they do for a living (Billy said he tells them he runs a business on Amazon), the couple said that camming has given them the flexibility to come up with their own work schedule. Kellie agreed: "I wanted to own my own business and be in charge of my own life, so I gave camming a try," she said. "It gives you a lot of control over who your customer base is. ... We set our own boundaries. There are a lot of customers who ask for defamatory language in our scenes, and we don't feel comfortable with that. It's an ethical choice we made." 
Mockingbird agreed their joint venture was a great business move, both individually and together. "I believe if you choose to do the work and you love it, it's empowering," Mockingbird said. "We've gone through the corporate world, [and now are] choosing to do something else." 
Although couples who cam generally do so in the privacy of their own homes or studios, there are still privacy concerns for many couples. 
"I'm worried about my family finding out," 22-year-old Jasmine Jordan said, who regularly performs on Chaturbate with her 26-year-old boyfriend, who goes by Samurai Lennon. He still has a part-time job in the medical field. "Somebody at my company might see. It's taboo and I guess I could get fired," he said, shrugging. They are more concerned about spoiling Lennon's great relationship with Jordan's family if they are found out. 
Lennon and Jordan have only been together for seven months and first ventured into webcam business together five months ago. "I did [live webcam sex acts] once a year ago for like a month, I didn't like solo shows. It's so lonely, so I stopped," Jordan told Mic in Miami Beach. "Now that we have friends online it's easier." Jordan now regularly broadcasts with her boyfriend and by herself, raking in just under $6,000 a month for 20 hours of work a week in the process. 
"It's not just fucking or masturbating for hours," she said. "It's like planning out a whole show ... you can't just do the same thing every day." 
Like many of the other couples at Cam Con, Jordan and Lennon are motivated both by the money and by the level of experimentation it adds to their sex lives. At the behest of clients, they explore fetishes and sex acts, such as butt play, that they never would have tried on their own. 
"We're actually shy people, but on cam we're not, because I can't see the people [watching]," Jordan said. 
Yet having sex on camera doesn't come without complications. Even for longtime porn veterans like Kimmie and Darrell Kaboom, the intimacy of broadcasting private sex with a real-life partner can create some tricky boundaries. The Kabooms, who have been together for 15 years, have been performing on cam together for about three years. 
"At first I made the mistake of having the camera near us whenever we had sex," 44-year-old Darrell said in an interview. Darrell's wife Kimmie, 45, is an award-winning porn star and businesswoman, one of the rare cam girls who turned to webcams after years of experience in other types of sex work. "I had to learn how to be Darrell the husband again... there just gets to be a point when we need to disconnect." Since they started camming, they've learned to make time for off-camera sex and romantic activities outside the house, like going on dates at car shows. 
Although Kimmie frequently performs with other people on camera, Darrell said he rarely gets jealous or possessive. 
 "I watch all her work," Darrell gushed. 
"He's my number one fan," Kimmie agreed. 
Like the other couples Mic interviewed, the Kabooms acknowledged that the female performer is the boss. Even if they share marketing and financial responsibilities, as Lennon put it, the woman is "the star" of the show.  
"I think if you work [in your own camming] business it can be very empowering," Kimmie said. 
Jordan agreed, saying that sometimes, she even prefers camming to having sex off-camera. As a cam performer, "I'm an entrepreneur," she said. "I'm in control."