Disney Orders Reshoots After 'Rogue One: A Star Wars Story' Test Screenings Bomb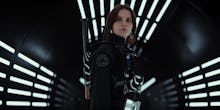 This is not the movie you are looking for.
Franchise spinoff Rogue One: A Star Wars Story is running into serious production problems, requiring extensive, and expensive, reshoots just seven months before its Dec. 16 release date, reported the New York Post's Page Six.
Take it with a grain of salt — the Post is a notorious tabloid. But one "Hollywood source" told the magazine, "the execs at Disney are not happy with the movie, and Rogue One will have to go back into four weeks of expensive reshoots in July ... [the movie] has fallen short of what J.J. Abrams did with Star Wars: Episode VII — The Force Awakens ... Disney won't take a back seat, and is demanding changes, as the movie isn't testing well."
Another source at Disney spun the changes in a positive light, telling the paper, "The filmmaking team and the studio always anticipated additional shooting and second unit work to make the film the absolute best it can be, and the actors were aware there would be additional shooting. Coming off The Force Awakens, there's an incredibly high bar for this movie and we have a responsibility to the franchise and to the fans to deliver the best possible movie we can."
Days ago, Jayne Star reported Donnie Yen, who plays a character named Chirrut in the film, let drop additional reshoots are scheduled for Father's Day weekend. Earlier in May, Marvel cancelled a series of Rogue One comics because of changes to the film counterpart's script.
In general, major reshoots are a sign of a film in distress — though not always, according to ScreenRant, which pointed out classics such as Jaws, Apocalypse Now and Back to the Future all required another go before hitting theaters in April amid concerns over Suicide Squad reshoots. As The Atlantic also noted, the original Star Wars trilogy was plagued with production problems, yet remains highly regarded.
Rogue One is highly anticipated, according to Fandango polls, but a lukewarm box office reception is probably unlikely to do more than dent a franchise whose latest film grossed over two billion dollars worldwide.
Rogue One takes place 35 years before the latest film in the Star Wars franchise, and stars Felicity Jones as Jyn Erso, a rebel spy tasked with uncovering intelligence on a "major weapon." Other cast members include Diego Luna, Riz Ahmed, Ben Mendelsohn and Forest Whitaker.