'Harry Potter and the Cursed Child' Unveils First Look at Black Hermione, Sorry Haters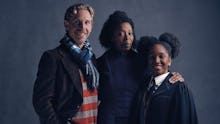 We've already had a chance to see the Potter family all grown up; now it's Ron Weasley and Hermione Granger's turn. The upcoming West End play Harry Potter and the Cursed Child unveiled Wednesday on Pottermore the first look of Harry's closest friends, who ended J.K. Rowling's book series married. The photos feature Hermione (played by Noma Dumezweni), Ron, (played by Paul Thornley) and their daughter, Rose Granger-Weasley (played by Cherelle Skeete). 
The castings for Ron and Hermione first caught the public eye in December when Dumezweni, a black actress, was cast for a role that some Twitter critics believed was exclusively white. However, Rowling has refuted the claims, saying she never specified the character's race, while Emma Watson — who played Hermione in the film adaptations — was similarly full of praise for the new actress. 
In light of the announcement making the social media rounds again, it didn't stop some members of the Twitterverse from complaining about the move. Conversely, some were thrilled at both the casting, and disgusted by the negativity expressed from their peers.  
The Cursed Child will have its first public preview in London on June 7, and takes place 19 years after the events of Rowling's final novel. You can check out the rest of the photos released below:  
Read more: JK Rowling Just Said She Loves a Black Hermione: "White Skin Was Never Specified"